5 Year Barrel Aged Matured in French Red Wine Cask
£35.00
Low stock
only

30

left
Introducing the 5-Year Barrel-Aged Spirit of Pogo!Limited to just 400 bottles, this exquisite Whisky Spirit is a remarkable creation from Somerset's finest brewers. In 2017, they embarked on an unforgettable journey, loading their vans with Pogo and heading to Somerset Cider Brandy Co. for distillation. While most became... Read more
Introducing the 5-Year Barrel-Aged Spirit of Pogo!

Limited to just 400 bottles, this exquisite Whisky Spirit is a remarkable creation from Somerset's finest brewers. In 2017, they embarked on an unforgettable journey, loading their vans with Pogo and heading to Somerset Cider Brandy Co. for distillation. While most became the celebrated Spirit of Pogo, they secretly aged one French red wine barrel's worth for over 5 years.

Now, after careful nurturing in our cellar, we proudly present the 5-Year Barrel-Aged Spirit of Pogo—a fusion of Somerset's history and French wine allure. Delight in the captivating aromas of candied citrus zest, sweet vanilla, tropical notes, and pear drops.

This harmonious symphony of smooth oaky tannins, luscious guava, lychee, and indulgent caramel will mesmerize your taste buds. A collaborative effort with Somerset Cider Brandy co and Pleasant Land Distillery, this spirit is a testament to our shared passion for flavour exploration.

Join us in raising a glass to the 5-Year Barrel-Aged Spirit of Pogo—a celebration of time, dedication, and the pursuit of exceptional taste. Don't miss this limited-edition masterpiece; secure your bottle today
Read less
Introducing the 5-Year Barrel-Aged Spirit of Pogo!Limited to just 400 bottles, this exquisite Whisky Spirit is a remarkable creation from Somerset's finest brewers. In 2017, they embarked on an unforgettable journey, loading their vans with Pogo and heading to Somerset Cider Brandy Co. for distillation. While most became... Read more
Introducing the 5-Year Barrel-Aged Spirit of Pogo!

Limited to just 400 bottles, this exquisite Whisky Spirit is a remarkable creation from Somerset's finest brewers. In 2017, they embarked on an unforgettable journey, loading their vans with Pogo and heading to Somerset Cider Brandy Co. for distillation. While most became the celebrated Spirit of Pogo, they secretly aged one French red wine barrel's worth for over 5 years.

Now, after careful nurturing in our cellar, we proudly present the 5-Year Barrel-Aged Spirit of Pogo—a fusion of Somerset's history and French wine allure. Delight in the captivating aromas of candied citrus zest, sweet vanilla, tropical notes, and pear drops.

This harmonious symphony of smooth oaky tannins, luscious guava, lychee, and indulgent caramel will mesmerize your taste buds. A collaborative effort with Somerset Cider Brandy co and Pleasant Land Distillery, this spirit is a testament to our shared passion for flavour exploration.

Join us in raising a glass to the 5-Year Barrel-Aged Spirit of Pogo—a celebration of time, dedication, and the pursuit of exceptional taste. Don't miss this limited-edition masterpiece; secure your bottle today
Read less
DELIVERY SERVICE
When will my order arrive?
Our courier Parcelforce currently provides a 48-hour delivery service and we aim to fulfil this on orders placed before 10am. However, deliveries can take up to 3-5 working days during busy periods. Orders received after 6:59am on a Thursday, and over the weekend will be sent the following Monday.
How much is your delivery?
England, Scotland and Wales
Orders £60 and over to the UK Mainland will receive complimentary free shipping, with a charge of £5.00 applying to orders under £60.

Northern Ireland, Isle of Man & Channel Islands
We are currently unable to deliver to these locations but we plan to expand this in the future

Do you deliver abroad?
No, we currently only deliver to the UK Mainland.
Do you offer a Click and Collect Service?
No we currently do not offer this service.

How does your delivery service work?
You will receive an email confirming your order, followed by a text from our courier confirming shipment giving you details of your delivery and tracking information.
If you are not in when a delivery is attempted, a card will be left containing contact details to arrange a re-delivery. If the courier is not contacted, they will attempt to re-deliver your order on the next two consecutive days. If you are not in on the second day, a card will be left advising you that the consignment is being returned to the depot.
Can I leave a note to the driver?
Yes, absolutely. If you live in a multi-occupancy building, please make sure that we have your correct contact details, access information and anything else you may feel necessary to assist in the delivery of your beer. Please add this to the delivery notes section when placing an order with us. If your order cannot be delivered in these circumstances, the card to inform you that your order has been held may also not get to your door. The couriers are not able to leave parcels in a communal area.
Do you deliver on the weekends?
We are currently unable to offer deliveries on Saturdays and Sundays.
Can I return an order?
For items purchased online, you can send them back for a full refund within 14 days, providing the goods are unopened and unused. The cost(s) of returning goods to us shall be at your own expense. Upon receipt of the goods, we will give you a full refund for the amount paid (minus the original delivery fee), or an exchange credit as required.
What happens if I get a breakage?
Breakages are rare and will usually be returned to us before they arrive with you, but if you do receive a box with any broken or missing bottles, please handle with extreme care and send us an email right away to shop@wildbeerco.com. We will remedy this as soon as possible.
5 Year Barrel Aged Matured in French Red Wine Cask
£35.00
Low stock
only

30

left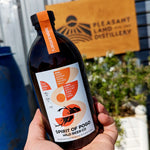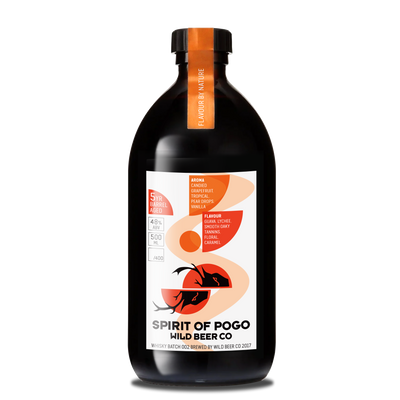 Aroma:
Candied Citrus Zest & Sweet Tropical Fruits
Finish:
Warm Fruit Crumble, Peach, Vanilla, and White Chocolate.

Flavours:
Smooth & Oaky Guava, Llychee and Vanilla

Appearance:
Copper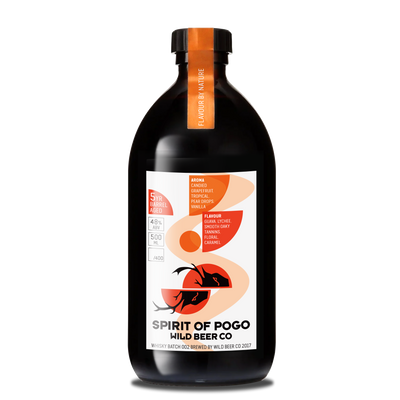 Ingredients
Yeast

Califonian Ale yeast

Hops

German and American

Other

Passionfruit, Guava and Orange.
Experience
Appearance

Copper

Aroma

Candied Citrus Zest & Sweet Tropical Fruits

Flavours

Smooth & Oaky Guava, Llychee and Vanilla

Finish

Warm Fruit Crumble, Peach, Vanilla, and White Chocolate.

Cellaring

Drink Fresh or Age
Unique Aspect
Presenting the Tropical Pogo Old-Fashioned!
Ingredients:
50 ml 5-Year Barrel-Aged Spirit of Pogo

1 sugar cube or 1 tsp of sugar

2-3 dashes of Angostura bitters

3 to 5 orange zest skins (optional)

Ice cubes

Orange slice and maraschino cherry (for garnish)
Instructions:
In an Old-Fashioned glass, muddle sugar, bitters, and optional orange zest skins.

Fill the glass with ice cubes.

Pour in 50 ml of 5-Year Barrel-Aged Spirit of Pogo.

Stir gently for 10-15 seconds to blend the flavors.

Garnish with an orange slice and maraschino cherry for a touch of elegance.
BUY NOW