Wild Beer Secret Cellar Club
Welcome to the Secret Cellar Club. This is an exclusive club with limited spaces available. A quarterly case of unique and exclusive beers delivered straight to your door. This is an invitation only club.
Join Secret Cellar Club Today
Join the Wild Beer Secret Cellar Club today for a quaterly box of beers filled with new releases, limited editions, and cellar exclusives delivered directly to your door. Membership is only £50 per box including delivery!
Membership Benefits
Not only will you receive an amazing box of beers delivered directly to your door every quarter, by being part of the Wild Beer Secret Cellar Club you get loads of membership benefits! With priority access to new beers, a video tasting with every box, priority access to events, 500 loyalty points when signing up and entry to quarterly competitions!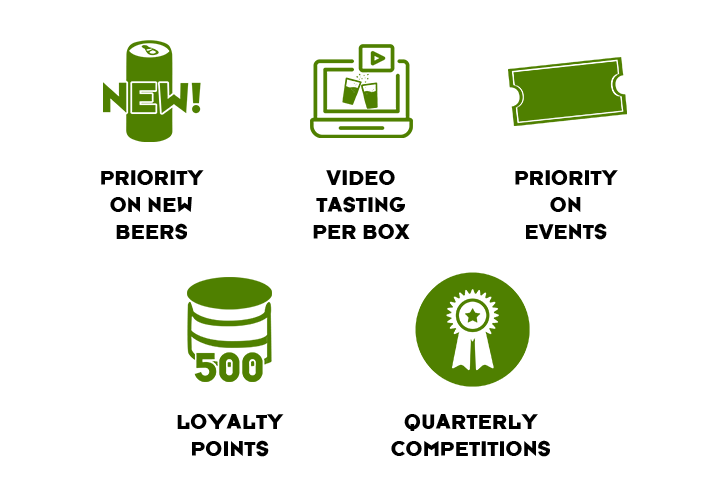 FAQs
Am I locked into my subscription
No, of course not. You can cancel at any time directly from your customer account section on our website, you are completely in control. If you do leave we can't guarantee you will be able to join again straight away, only when another space comes available, but you can be added to the waiting list. 
Is postage included in the price?
Postage is free and you do not have to pay any additional cost for postage, you will receive a notification once your box has been dispatched and you will be able to track your delivery. 
When will the boxes be delivered?
We are releasing boxes every quarter, this will be June, September, December and March. We aim to dispatch boxes within the first week of the month but you will receive confirmation when your order is on its way. 
What are your membership options?
We have two types of memberships on offer. You can either sign up for a recurring quarterly membership where you will be charged £50 every time you are due to receive a box (June, September, December, March). Or you can sign up for a yearly membership which will be charged £180 every year.
Will I be saving money by signing up to the club?
Our boxes will always be the best value for money, we will guarantee that you will be getting the beers at a better price than when purchasing them separately, what's even better is you will also get 500 loyalty points for joining and 10% discount across the rest of the website!
What will I get in my box?
We like to leave an element of surprise, however we will occasionally give you teasers about what is in your next box. Typically your box will contain a range of different beer styles from 8 - 12 beers, this will include premium beers with limited quantities available exclusively to club members. We will also add the occasional gift, but we do not want to give too many secrets away!
Why are there only limited spaces available?
Sometimes we only produce super limited amounts of exclusive beers, we wanted these to be available for our club members only. We want this to be the best possible experience, so rather than focusing on quantity we wanted to focus on quality. Over time, we hope to open more spaces, we will always offer these to our members to refer to their friends before we open it up to everyone else. Due to popularity, we recommend signing up to be notified when spaces come available!
If i order additional products when will i get these?
If you order additional products we will send these out at the same time as your subscription. If you want these earlier then we suggest you place these as a seperate order or get in touch with us at shop@wildbeerco.com.
I want to include additional items in my next subscription, how can i do this?
If you want to include additional items with your next subscription then please log into your account on our website, select manage subscription and then add the additional products.

Can i use my investor discount

Investor discount will apply the the first box, after that the box will be at £50 per quarter, you can still use your investor discount across all other products on the website.